SHOP WITH A COP 2015
3rd ANNUAL SOFTBALL TOURNAMENT
Men's Tournament and Co-ed Tournament
SIGN UP NOW!
Date:
July 11-12, 2015
Team cost: $350/team
Includes team insurance, umpires, and game balls. Game minimum depends on number of teams registered. There is a $2.50 entrance charge to enter SPORTSPLEX USA for everyone 16 years and older. In return, you receive a token worth $3.00 towards a purchase of any beverage at our Sports pub.
HELP Law Enforcement SUPPORT Underserved Children
PRIZES PRIZES PRIZES
SILENT AUCTION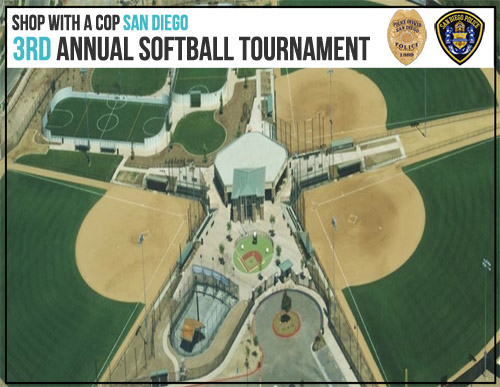 Location:
Sportsplex USA Santee
9951 Riverwalk Drive
Santee, CA 92071
-3 Turf Fields
-Sports Pub
-Batting Cages
Contact:
Deputy Probation Officer Michael Keeley
858-694-4382
michael.keeley@sdcounty.ca.gov
All donations are gratefully accepted
Contact Barbara Avilla @ 619-972-4665
We are supported by a 501(c)3 non-profit association.
WHAT IS SHOP WITH A COP ALL ABOUT?
Each year, "Shop with a Cop" provides a joyful holiday for over 300 underserved children with a morning of shopping at Target with their law enforcement partner. Each child is provided with a $150 Target gift card to spend on themselves and their family.

https://www.facebook.com/sdshopwithacop
THE 2015 EVENT IS SPONSORED BY THE SAN DIEGO POLICE